Graduation season is in full swing all around us. It's all caps and gowns and pomp and circumstance, everywhere you look. And no matter where you turn, it's hard to find more pride and hope, a higher level of excitement and exuberance, than what has been embodied in the crowds of students, faculty, family and friends at Eclaro Academy.
The graduations and moving-up exercises that have filled recent Manila days and nights in the Philippines are an inspiring testament to the impact that education can have on not only an individual but an entire community. In the decade since the nonprofit Eclaro Academy opened its doors, the mission of giving back, shaping futures and changing lives has driven what began as a school with 18 students to grow into a full-fledged academic institution that has welcomed more than 16,700 students.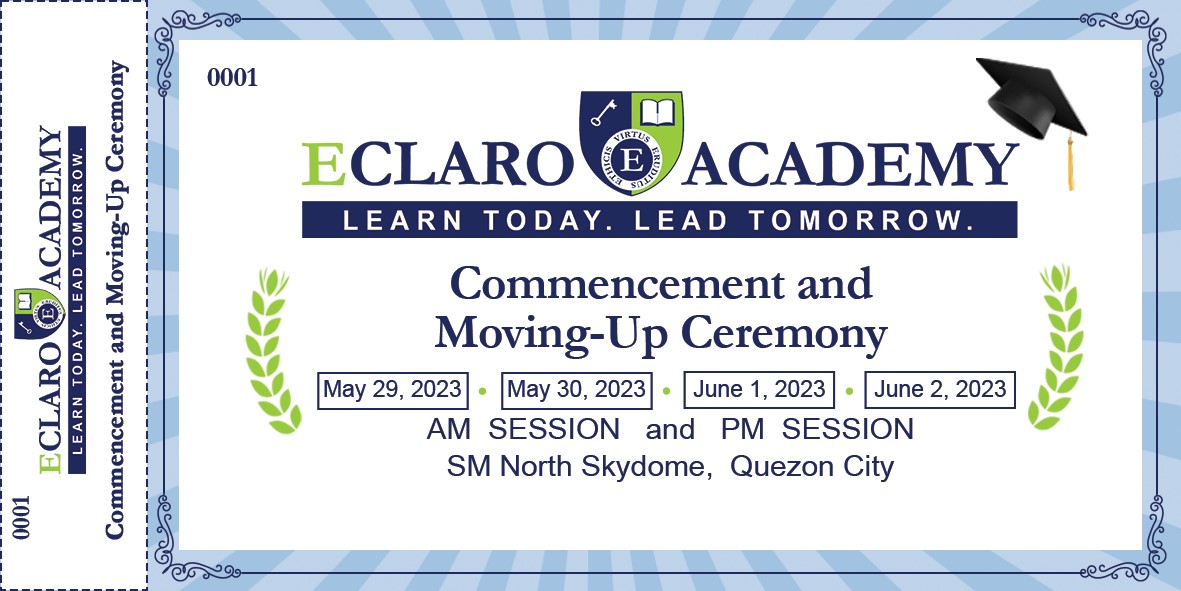 "As our business and presence in the Philippines have grown over the years, we have made it our mission to become increasingly involved in the communities in which the Eclaro team works and lives," says Eclaro Cofounder Tom Sheridan. "Eclaro Academy has had a special place in our hearts since its very beginning as a way to give back while always looking to the future."
Eclaro Academy now has three campuses, over 4,300 current enrollees in programs from pre-school through college—plus a new school for the deaf—and more than 4,000 graduates to date. The school offers myriad academic tracks—ABM (Accounting, Business and Management), STEM (Science, Technology, Engineering and Mathematics), GAS (General Academic Strand), HUMSS (Humanities and Social Sciences), and Technical-Vocational Track; HE (Home Economics), and ICT (Information, Communication and Technology)—and has been a certified training partner of the Amazon Web Services (AWS) Academy, offering a curriculum designed to help students develop technical expertise in cloud computing.
Through such broad curriculum options, training in the art of public speaking and communication, even via instilling the mindset that success and learning are not only achievable but are intimately intertwined, Eclaro Academy focuses on delivering graduates who are prepared to compete and excel in a global workforce.
"With studies showing that every year of schooling increases a person's lifetime earnings by 10%, and enrollment rates at dangerously low rates among children in the Philippines, we saw an opportunity to make an impact at the most foundational level," says Eclaro Cofounder Paul Sheridan. "That's where the Eclaro Academy and our education-based impact sourcing program began in the Philippines in 2013."
Maybe you're familiar with the term "impact sourcing," but just in case…. As defined by our friends at the International Association of Outsourcing Professionals (IAOP), impact sourcing "is a business model where organizations intentionally hire and provide career development opportunities to people who otherwise have limited prospects." Here are Eclaro, we've gone to the core of the "career development" concept—schooling and education—to help start making an impact as early as possible in life.
"With nearly 4 million out-of-school youth in the Philippines, the Eclaro impact sourcing program provides a way to help those in need truly build a more positive future for themselves," Tom notes. "We strive to help the future workforce starting in kindergarten, to give them the tools to use education to impact their earnings and economic opportunity down the line. The first step on the career ladder, that first stride toward skills development and economic self-sufficiency, can be that first step a child takes in their education."
The school has always been open to any and all lovers of learning in the Philippines, including those already working with Eclaro.
"We offer up to 90% subsidies to employees and their families to attend Eclaro Academy, and offer continuing education programs to Eclaro employees," Tom says. "In addition, we work with the school to hire Eclaro Academy graduates as employees. With premium educators and facilities, and an average student to faculty ratio of 25:1, we are proud to offer a quality education and give back to the Filipino community in a very meaningful way.
"The focus of Eclaro Academy is always on providing a top education while also instilling the values that the future workforce will need to succeed in the Philippines." he continues. "We have hired a number of Eclaro Academy graduates since the school opened, and we look forward to more graduates joining us in the coming years. But more important, we are helping young people develop skills and a mindset to excel in a global workforce, whether they are working with us or another company."
All of us here at Eclaro are immensely proud to have received the 2021 Global Impact Sourcing Award from the IAOP and the Rockefeller Foundation, and to have been named to the Global Outsourcing 100 by IAOP each year since 2020. We are also proud to be able to give Eclaro clients the opportunity to immerse themselves in this program and be part of something that genuinely changes lives.
"We've developed a program that allows our clients to sponsor scholarships for underprivileged students to attend Eclaro Academy at no cost. By committing to hire five Eclaro resources for a minimum of one year, we will provide a scholarship for a student in your company's name to attend all nine years of grammar school from kindergarten through eighth grade, or all four years of high school or four years of college," Paul says.
"We've provided nearly $5 million in scholarships to students to attend the Academy so far," he adds, "and keeping with our objective to increase opportunities for disadvantaged populations, the number of scholarships offered continues to grow every year."
And so, too, will the number of lives feeling the impact of Eclaro Academy. So toss those caps in the air, put that "Pomp & Circumstance" on repeat and remember, if you are just beginning your journey through school or are a recent graduate, whether you are decades into your career or just applying for that first job, learning is not a destination. It is a journey that never ends.
Share this entry